Vinyl Fence
Vinyl is a relatively new, low-maintenance type of fencing.
Available in styles similar to wood privacy, picket, and rail although vinyl is not subject to rot or fading.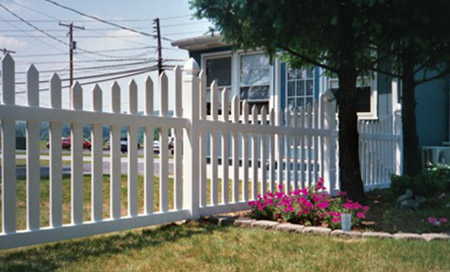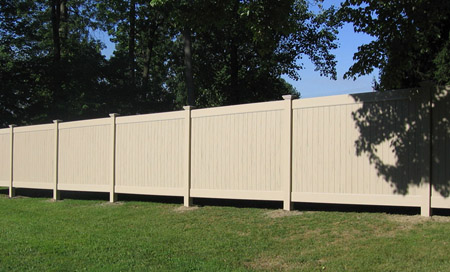 Spaced Picket styles include pickets which are assembled through the rails, which keeps both sides of the fence looking exactly the same.
Privacy vinyl fencing options include many sizes, colors, and fence "toppers" with a variety of lattice or picket designs on the top of the fence.
Crossbuck is one of a few options for vinyl post and rail. Other styles are available which imitate popular wood designs.
Arbors, Pergolas, and Trellises can be built to match whichever style of vinyl fence you choose.
Additional Information & Options
The most common color options include white, grey, and beige. Various wood grain styles as well as many other colors are available through special orders. Sections and gates can be ordered curved, scalloped, and even custom built to meet your needs.
Not quite sure what you're looking for? Brochures are available during our estimates and/or upon request and our Facebook Gallery provides many more examples of the services and products we offer.
We specialize in all types of fence and have experience with many similar products. If you've seen or heard about a product you are interested in but haven't found it here, please contact us with any information you have and we will do our best to help.
Contact Us
By Phone:
By E-Mail:
mikec@mtpoconofence.com
Visit us on Facebook:
Copyright © 2001-2015
Mt. Pocono Fence
All rights reserved.